James Pfaff was born in 1965.
Working since the 1980s, James Pfaff relocated from his native Glasgow to Germany in 1994 where he formed his body of work Alex & Me/Danilo Montanari Editore (2016).
He moved to London in 2001 and continued to work and exhibit his projects while still working commercially. During this period, he was introduced to the artist Banksy and documented the artist at work in his then London studio and contributed two portraits for his book Wall and Piece (2005), published by Random House.
The National Portrait Gallery in London later acquired one of the portraits (2007).
He is also the author of many other portraits including Eric Clapton, George Best, Malcolm McLaren, Daphne Guinness and Sean Ono Lennon.
His editorial clients include, amongst others, Vanity Fair, GQ, ELLE, The Wire, Monocle and The Face. Vogue, Rolling Stone and Playboy magazines have featured his work. Advertising, fashion and design clients include Nike (Wieden+Kennedy), First Direct (JWT), Clements Riberio, Courrèges, The Groucho Club and The Michelberger Hotel.
In 2015 he returned to Scotland, to Glasgow's west end, where he now lives and works and teaches photography part-time at the City of Glasgow College acting as both a mentor to both the New Photographers Guild (in association with Street Level Photoworks), Glasgow and The Cultural Enterprise Office, Glasgow.
In 2017 he was a guest judge for the Fòcas Photography Prize.
In 2018 he had his first major solo show (Alex & Me) at Street Level Photoworks during Glasgow International (GI). The exhibition was nominated for The Deutsche Börse Photography Foundation Prize 2019. A work from the show, the wall composition with neon Alex & Me - Ever Been Changed By Someone? was awarded The Emma Herman-Smith Environmental Art Award for an artwork of merit in environmental art. During this time, he also published his first artist edition Alex & Me - Coda/Danilo Montanari Editore.
'THE BANKSY SESSIONS, 2003/2004'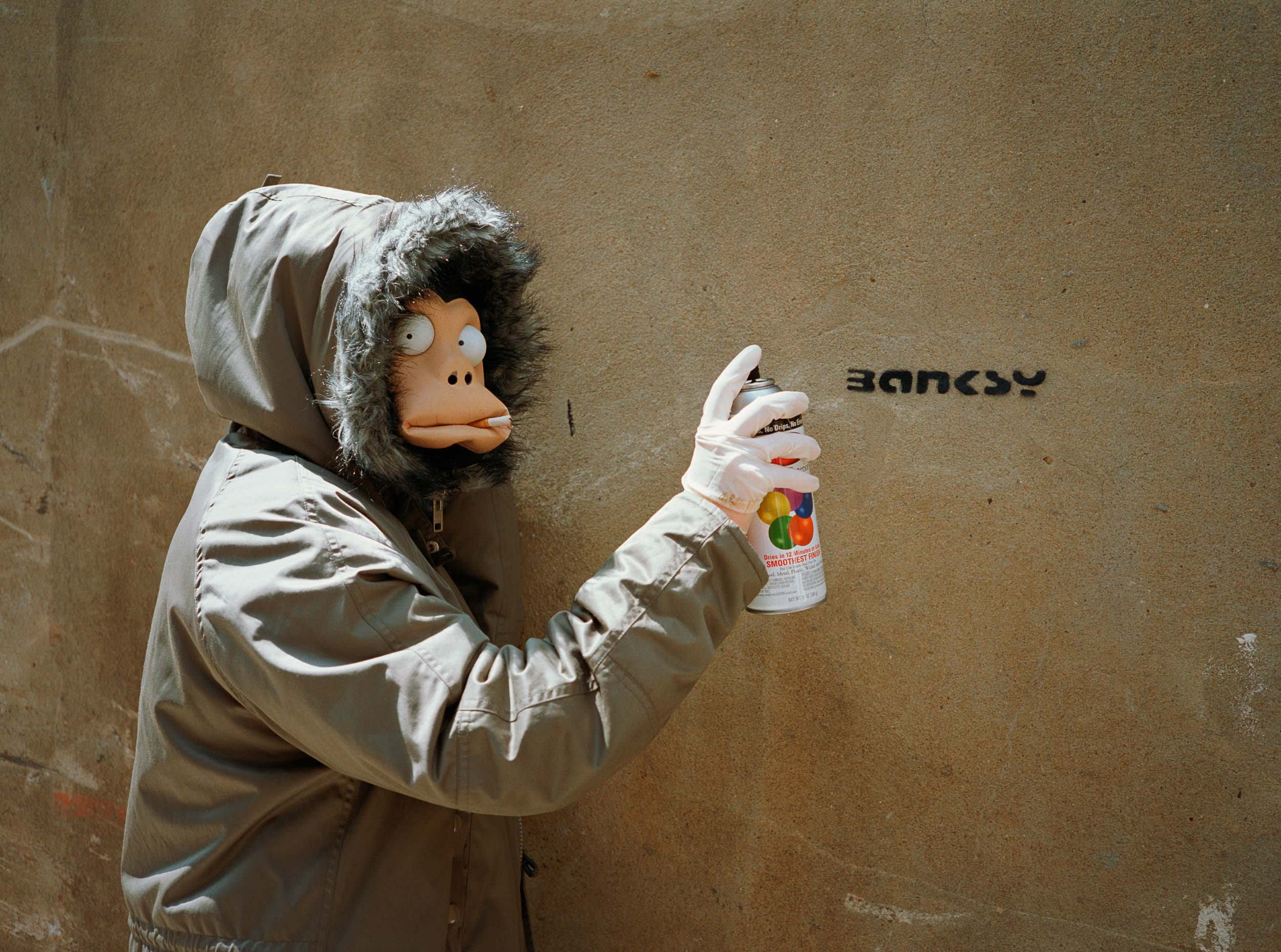 Artist James Pfaff was introduced to Banksy in London in 2001. Between 2001 and 2004, he would photograph the artist and his studio on three separate occasions.
The works featured on the website are from two of these sittings, offering a rare and respectful insight into this most camera-shy and thought-provoking artist on the cusp of global recognition.
Within the collection of fourteen works, two immediately recognisable pieces stand out. 'Banksy, Monkey Mask Session (Tag)' and 'Banksy, Canvas Session' both appear in Banksy's 'Wall and Piece' book first published by Random House in 2005, giving both works a solid and clear connection to the artist.
Already a well-known portrait photographer, the works are good examples of Pfaff's photographic style - bold, well balanced and exhibiting excellent photographic quality.
All of the works were photographed on Kodak film stock using quality analogue photographic equipment - Leica, Hasselblad and Fuji Film cameras.
The critical artist - film negative - sitter connection (lost in a digital process) is maintained through the film negative's existence.
Staying true whenever possible to the analogue process, all of the works, except for some of the larger pieces, are hand-printed in London on Fujicolor 'C' type photographic paper before being checked and framed.
All of the works are now available for the first time in three new large format framed editions.